Uncategorized
Stacey Dash Arrested For Domestic Violence: My Husband 'Put Me Into A Chokehold'
Actress Stacey Dash was arrested for domestic violence in Florida over the weekend as reported by TMZ.
Law enforcement sources told TMZ the star of "Clueless" was arrested on Sunday in Pasco County after getting into a physical altercation with her husband, Jeffrey Marty, and allegedly had to put the paws on him.
Cops were called to her home around 7:45 PM responding to a domestic dispute between Dash and husband. Sources also say Stacey allegedly pushed and slapped him and that's when officers arrived at the scene they saw scratches on his left arm.
Stacey was taken into custody, where she's was being held on $500 bail. Where she lives with these types of incidents local authorities often keep people for a 24-hour hold to cool off.
The couple just secretly got married last spring in Florida. Not much is known about her new hubbs other than he's a lawyer.
This is Dash's fourth marriage.
Update: Dash's says TMZ got the story all wrong….
Official statement from Stacey's manager, Nick Terry claims TMZ's report of Stacey's husband choking her was "untruthful." But on the 911 call, you hear Stacey clearly say her husband put her in a chokehold and she had marks around her neck to prove it.
However TMZ pulled out the receipts!!!
Here's the 911 call obtained by TMZ in which you hear Stacey tell the 911 operator she's been assaulted by her husband. Also on the call she claims it all started when the husband's 15-year-old daughter got into her face.
TMZ released the video from the arrest in which Dash is noticeably upset. At one point in the video the officer tries to strike up a convo with Dash, asking where she's from and what she does for a living. Stacey tells him she an actress and starred in "Clueless" and a political correspondent.
Ok girl….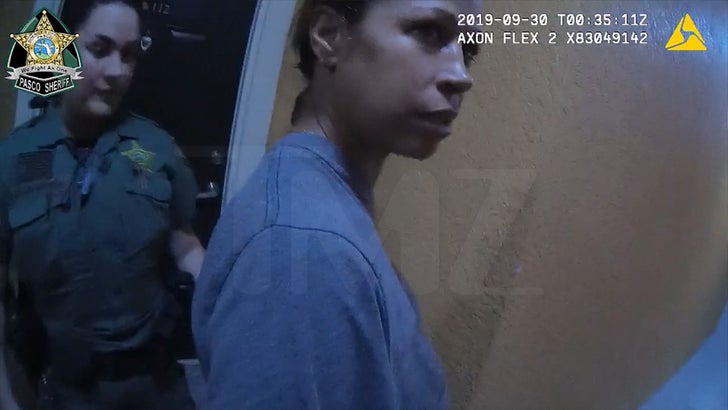 Photo via TMZ
Sources close to Dash told TMZ she acted in self-defense. The source also claims Stacey's husband got physical first, trying to choke her and she had to defend herself ,which ended with him getting scratches on his arms. And although it was Dash who initiated the 911 call, she ended up getting arrested because she didn't have any marks on her but her husband did.
Whew chile. Guess her 'caucasian privilege' didn't work in her favor!
Just my 2 cents! What's yours?!