Home
Kodak Black's Reps On Prison Fight: He Was Setup And Drugged
According to Kodak Black's camp he was set up and possibly drugged when he got into a fight while in prison.
Sources close to KB told TMZ that his camp believes last month's prison fight,which caused a guard to get injured, was a setup and claim someone slipped something in his drink causing him to flip out.
Via TMZ:
We're told surveillance video shows Kodak drinking a cup of coffee about 20 minutes before the fight broke out … and his reps believe Kodak's coffee was spiked with a chemical substance intended to make him lose control.
Our sources say an agent from the FBI testified Wednesday that witnesses said Kodak appeared to be under the influence during the brawl.
The fight started when Kodak got into it with another inmate, the corrections officer then sprayed KB with mace. Reports are also circling that it took several prison guards to restrain Kodak after showing incredible strength because allegedly he was drugged.
Whew! That's a lot!
Bureau of Prisons spokesperson Emery Nelson told TMZ a staff member was physically assaulted during the fight and was taken for treatment at a hospital.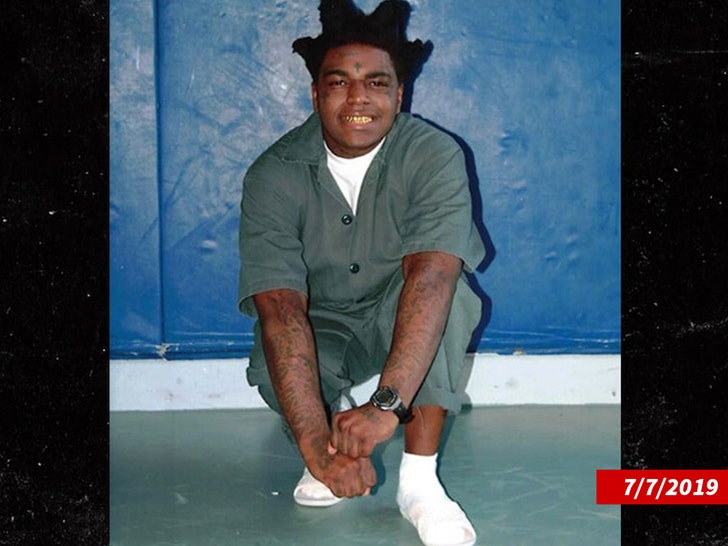 In case you missed it… Kodak was sentenced Wednesday to 46 months in prison after pleading guilty in a federal gun case.
Prosecutors were going for 96 months after KB was involved in the fight but it was denied by the judge.
Kodak's camp finds it very suspicious that the other inmate in the fight was placed in KB's prison pod earlier in the day, and the same inmate was released 12 hours on bond after the fight went down. Also the fact the fight went down 2 weeks before his sentencing also seems fishy to Kodak's team.
KB has been down this prison life road before but it's the first time he actually got into trouble.
Although they don't know for sure who allegedly drugged him, his team have their suspicions and feel a lot of people want to see him caught up.
No comment from the U.S. Attorney's Office or Kodak's attorney, Bradford Cohen.
Could there be some truth to this?! Maybe its some kind of inside prison set up conspiracy because of KB's alleged rape allegations he got going on!
What's your 2 cents?!