Home
Ice Cube On Being Sued By Mister Rogers (VIDEO)
Who would have thought Mister Rogers was a savage! Let's jump into these deets shall we?!
In cased you missed all the action this past weekend, our Cali treasure Ice Cube marked the 30th anniversary of his 'AmeriKKKa's Most Wanted' with a digital listening party for fans on Saturday (May 16) and shared a story about him being sued by none other than Mister Rogers.
Cube broke down each song track-by-track break and when he got to "A Gangsta's Fairytale," he shares a moment back in time when Mister Rogers sued him for sampling the theme song to his PBS children's show.
Cube explains:
"This is in the vain of Slick Rick, we love Slick Rock, one of the best storytellers ever — if not the best. I actually wrote this for Eazy-E but ya'll know what it is, we weren't getting down at the time so I had to take it myself."
He continues:
"It's a trip. Because off this song, Mister Rogers sued us. He was mad 'cause we had the 'Mister Rogers' theme at the beginning of this s**t, 'It's a wonderful day in the neighborhood' and all that. [He] sued us and was getting like five cents a record 'til we took that part off. That's just a fun fact."
Over the weekend, Cube also tweeted about how N.W.A. was blocked from entering their own listening party because bouncers that were working the door were too "scared we were there to turn the party out."
Peep Ice Cube's Tweet below:
"Did you know NWA was refused entry into our own listening party? Bouncers at the door we're scared we were there to turn the party out. Record Execs couldn't even get us in. Sheriffs came. We said fuck it and went to go eat."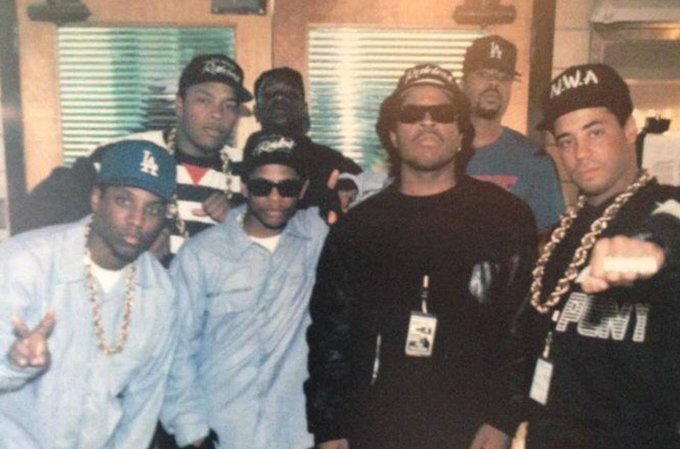 Guess the beautiful day in the 'hood' was not what Mr. Rogers was referring too!
What's your 2 cents?!