Home
B. Simone On Plagiarism Accusations: 'We Hired a Team That We Trusted.' (VIDEO)
B. Simone's gonna need a 9-5 lawyer to bail her out now that she's manifesting some potential lawsuits!
Simone now has to explain why her book, Baby Girl: Manifest the Life You Want, has become the front line of a plagiarism scandal. 
Yesterday, (Monday, June 16th), Simone went to Instagram to explain that the plagiarized portions of her book were done by an outsourced company that she trusted and thought they shared her vision.
In the video she says that she wanted to make a video to address all the allegations surrounding her book. But since the situation is now a legal situation, so she can only touch lightly on it.
She begins:
"Y'all know me. I have been vulnerable, transparent, honest about my whole career."
"I had a vision to create a book for young women to change their mindset and have them manifest because that is how I feel I became successful in life. Me and my team outsourced. We hired a team that we trusted. That we thought could bring my vision to life and they did a lot of things without my knowledge."
Although she alleges she had no idea of the plagiarism, as CEO of her brand Simone says that she takes full responsibility.
She captions the video:
"I have reached out directly to every content creator that was disadvantaged an I am doing everything I can to fix this issue and make everyone whole. Even though this was not intentional, I am still so very sorry to the content creators and I understand their frustration 100 percent."
But of course Twitter continued to snatch her edges:
"Someone put B Simone's book on Turn It In Dot com and found out she plagiarized














"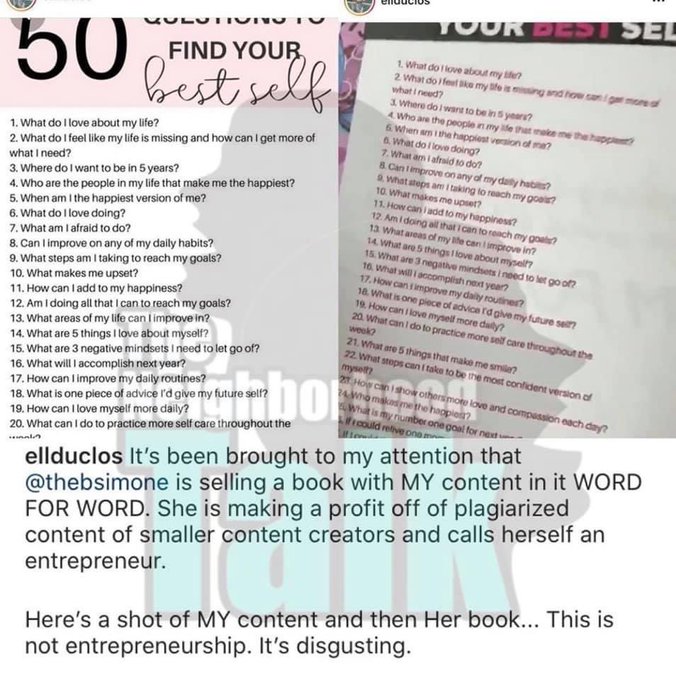 "Would love for @TheBSimone to STOP taking small content creators' hardwork and selling it as her own!!!
Disgusting. This is not entrepreneurship. This is PLAGIARIZING."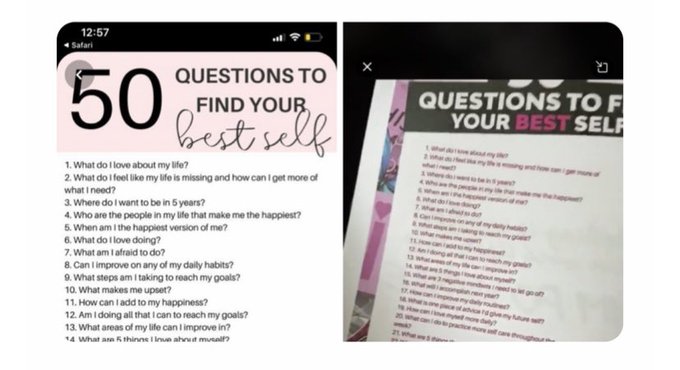 Her book has since been pulled off shelves.
Although it seemed there were crickets from her newly found celeb friends ,rapper Meek Mill stepped up to her defense and thought that the public's response to her was a little bit harsh tweeting:
"B Simone canceled because she finnesed a book and made her way from the bottom lol what major companies y'all cancel for ripping our culture off?" Meek tweeted. "finding ways to display hate towards our own when they start doing good is showing amongst us a lot!"
Well he does have a point, after the Kardashian's built their empire off of jackin people ideas, but siiiiiiiiiiiiiiiiiiiiiiiiiis you didn't read your own book?!
Check out her post below and drop your 2 cents: