Home
Megan Thee Stallion Sets Record Straight On Tory Lanez Shooting
Megan Thee Stallion Says She Underwent Surgery After Suffering "Gun Shot Wounds" She also revealed that she was the victim of an "intentional" attack. Here's what we know.
Megan Thee Stallion spoke about about a night out with singer, (and alleged boyfriend), Tory Lanez last Sunday (July 12) that resulted with him getting arrested on gun charges. Meg posted a message on Instagram yesterday (July 15) telling fans that she was suffered "gunshot wounds" and had to undergo surgery on her foot.
MTS via IG:
"The narrative that is being reported about Sunday's morning events are inaccurate and I'd like to set the record straight," wrote Meg. "On Sunday morning, I suffered gunshot wounds, as a result of a crime that was committed against me and done with the intention to physically harm me."
Meg says she was "never arrested" and that law enforcement officers took her to a local hospital where she to undergo surgery to have the bullets removed on her foot.
"I'm incredibly grateful to be alive and that I'm expected to make a full recovery, but it was important for me to clarify the details about this traumatic night."
TMZ reported an LAPD spokesperson told them that officers had no idea that Megan was wounded at first:
"At the time Megan Thee [Stallion] was with police she did not report that she was victim of any crime. And the LAPD has not received any additional information at this time."
Police responded to a call of multiple gunshots at a Hollywood Hills home where Meg was allegedly partying at with Kylie Jenner, Tory Lanez and few others. Below is an spinet of footage from the incident that shows her getting out the car with her hands up thanks to TMZ:
But how did it get to this point?!
Allegedly, allegedly, allegedly,……
Meg had been dating Tory for almost a year lowkey. Meg's team aka Roc-A-Fella and boss Jay Z was not rockin with the idea of her dating Lanez. So the past few months her relationship with Lanez was getting a little rocky and you can tell in the video she posted that night with Kylie Jenner:
Word is Meg was getting really tired of Lanez and felt that he wasn't fit for her brand that she worked very hard to get. Rumor also has it that she was ready to end her 'entanglement' with the Canadian singer. After leaving the party with Lanez and her best friend, an argument ensued between her and Lanez as he was driving.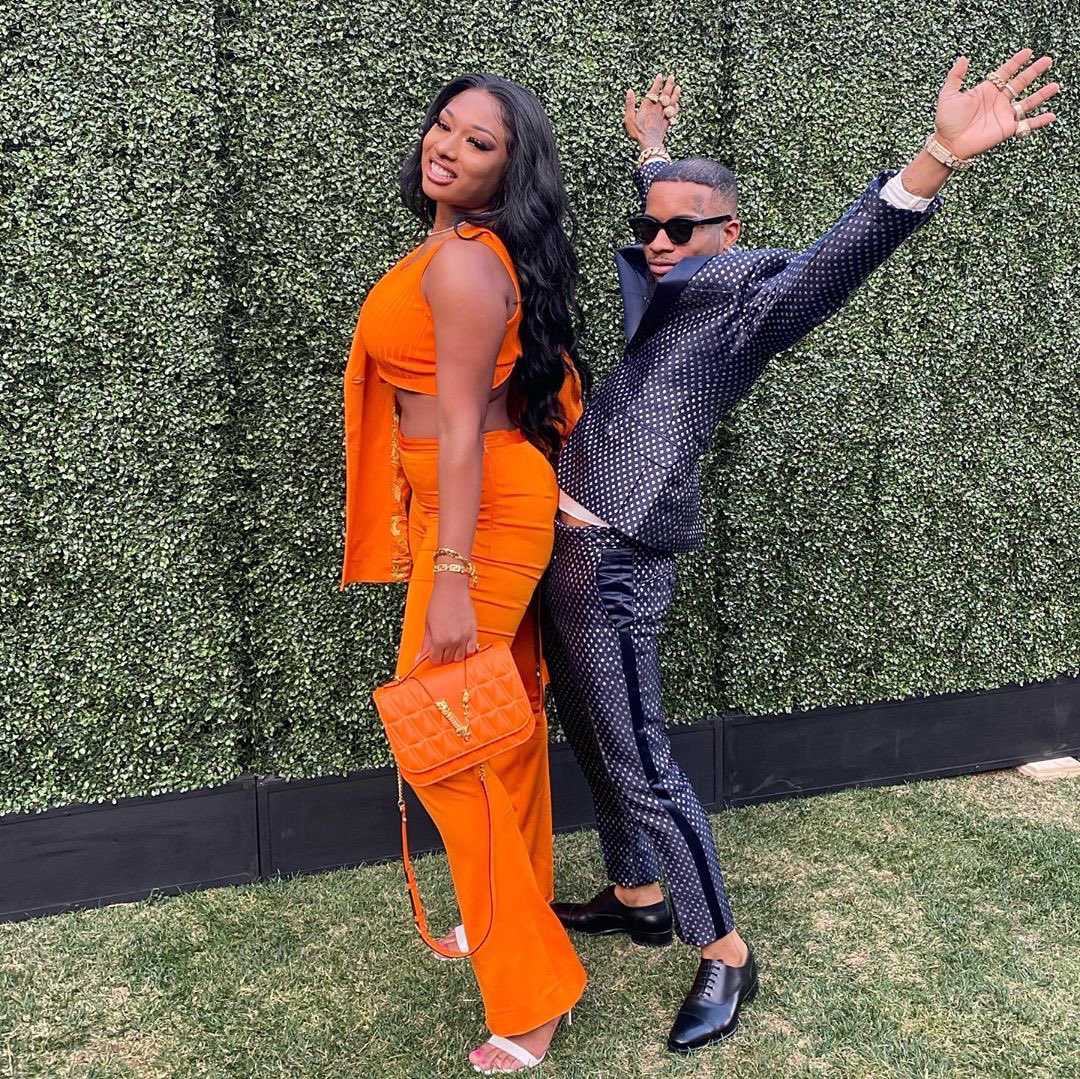 Allegedly, allegedly, allegedly,……
He then pulled out his gun, (as a scare tactic), waving it around and BAM the gun goes off! Ending with Meg shot in the foot.
Allegedly, allegedly, allegedly,……
According to court docs Lanez was arrested on federal weapons possession charges and has since been released on bond.