Home
BREAKING NEWS: Welcome to Sweetie Pie's Owner Busted For MURDER-FOR-HIRE PLOT…In Nephew's 2016 Killing
What in the 'Dateline' is going on here?! Let's unpack these deets shall we?!
"Welcome to Sweetie Pie's" star/founder, Miss Robbie has been dealing with a lot of family drama lately, and now to learn that her own son maybe tied to the murder of her grandson has got to hit her super hard.
Police arrested her own son for an alleged murder-for-hire plot on her grandson…who just graduated high school at the time of his death.
Miss Robbie's son, and costar on the former OWN show, James Timothy Norman was arrested by authorities for his alleged role in the shooting death of Andre Montgomery…his nephew and one of Miss Robbie's grandchildren back in 2016.
Back in 2014 prosecutors allege Norman, one of the owners of Sweetie Pie's restaurants, took out a $450k life insurance policy on his nephew and then hired a woman named Terica Ellis to allegedly pull off the murder plot. The feds also allege they did all communications on burner phones days leading up to Andre's killing in St. Louis.
According to prosecutors Ellis found out where Andre's location was the day of the murder, placed a call to Norman and shortly after that, Andre was shot and killed.
Fed's allege they have evidence showing Ellis' phone pinging near the scene of the crime on that March 14, 2016 dreadful day.
Here's how the tragic turn of events put the spotlight on Tim and his accomplice…and not in a good way….
Right after Montgomery's murder, authorities allege Ellis called Norman, left town and deposited $9k into several different bank accounts. Prosecutors then say Norman contacted the life insurance company in an attempt to collect on the blood money.
Ellis and Norman both face the same murder-for-hire conspiracy charge.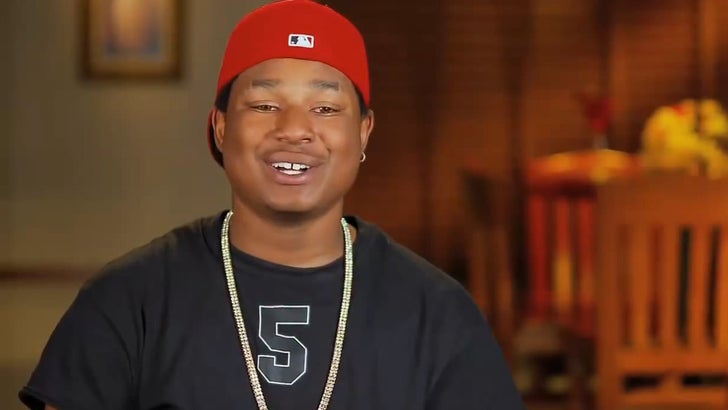 Miss Robbie was always adimate that her grandson's murder was a set up…couldn't imagine that she ever would have thought it was her own son!
What's your 2 cents?!