Home
Megan Thee Stallion To Tory Lanez: You Shot Me, Stop Lying! (VIDEO)
Megan Thee Stallion isn't with the shats anymore … so much so she came flat out and accused Tory Lanez, by name, of shooting her in the foot publicly for the first time since the incident  happened last month.
Late Thursday night MTS went to social media, saying:
"Yes, this n***a Tory shot me. You shot me, and you got your publicist and your people to these blogs lying and s**t, stop lying!"
Although Megan denied rumors she had put hands on Tory during an argument inside the SUV in the Hollywood Hills last month, she does admit there was an argument between everyone in the car, and that's the reason why she tried to leave. Allegedly that's when Tory opened fire busting shots!
Up to now, she'd insisted she was shot and kinda hinted around that it was Tory who pulled the trigger but never came out saying his name. During her IG Live post, Meg says she was scared to call out Tory to the LAPD because she "didn't want to die" that insinuating she feared the police.
She also shut down rumors the fight had something to do with Kylie Jenner. They'd all been partying together at her home in the Hills the night of the shooting.
According to reports, the L.A. County D.A. is now considering charging Tory with felony assault with a firearm.
Megan's bold move publicly announcing Tory as the shooter comes the day after she posted pics of her wounds and continued to insist she'd been shot no matter what trolls were saying online. However, all this time she still refused to say Tory's name out loud, even protecting  him saying her back was turned when she got shot, (hinting she never actually saw who pulled the trigger).
But between then and last night something changed and not in a good way….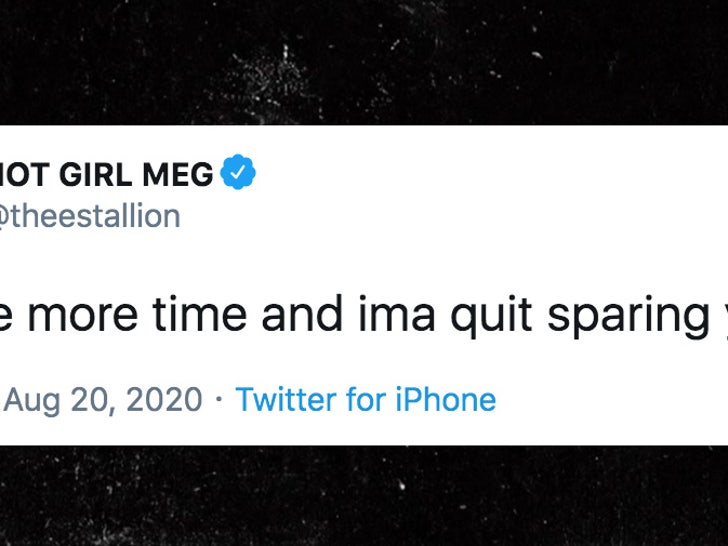 Something must have definitely happened that pissed Meg off, because shortly before she went live on her IG she tweeted what seemed to be a warning to Tory if he kept lying on her.
So far Tory remains hush mouthed, most likely at the advice of his lawyers!
Oh how the plot thickens….
What's your 2 cents?!